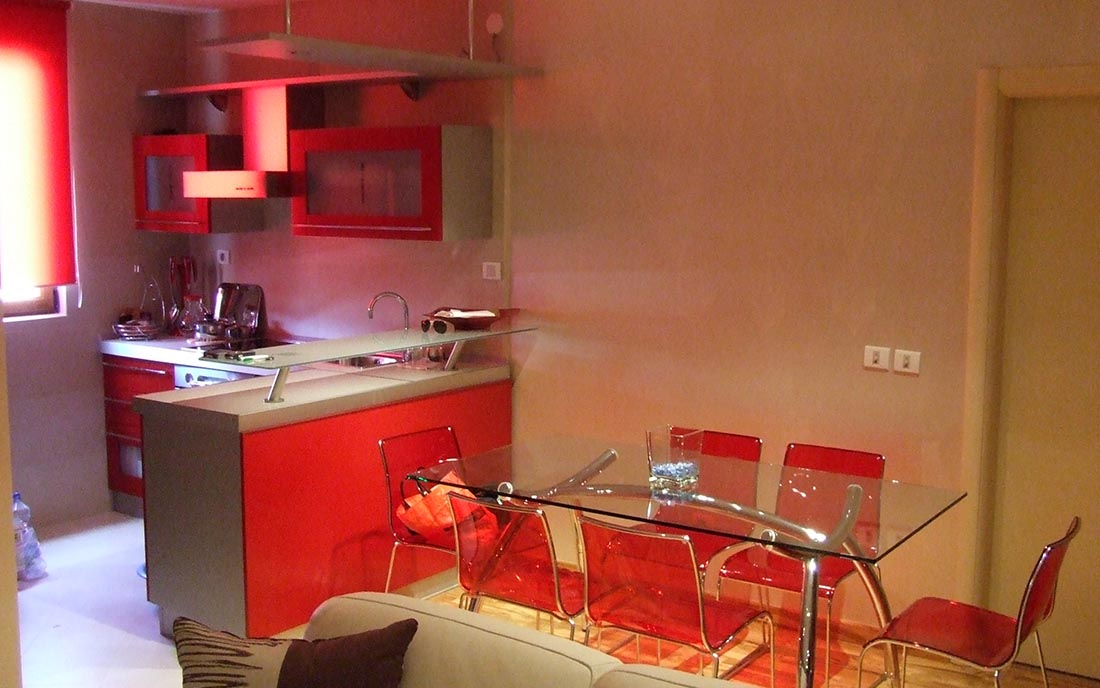 04 Oct

Assortment of furniture

We offer:

KITCHEN
When designing a kitchen that will fit perfectly into your style and lifestyle, good planning is crucial.
If you have a large family and prepare meals daily, you will probably need a lot of work surfaces, double sinks, quality appliances, spacious pantry, smartly organized solutions …
The kitchen definitely should not be the subject of savings, it is your priority. But if you're used to preparing breakfast toast or preparing simple dishes for your friends from time to time and it's your culinary scope, opt for simpler and less ambitious kitchen designs. Consider saving your kitchen budget and investing in areas of high importance to you. You do not have to spend a fortune on the kitchen if it's not an important area for your everyday routine.
In the end, every kitchen, even minimalist, should reflect the life and atmosphere of your home.
No matter how perfectly it is made and how much money you have invested in the kitchen, if it is deprived of life and its essence, then it is just another piece of furniture.
The kitchen requires the most maintenance and everyday care, it suffers most of its wear, has a very important function in our lives – for this reason, the kitchen is the most important and most expensive room when designing a home …
Each time you edit a house or apartment, the choice of kitchen is in the first place. This assumption can be easily explained because the kitchen has become the central place of our living space. This is a place where we no longer spend time exclusively for food, it's the place where we spend the most time in contact with the people. That is why the selection of the kitchen is a great responsibility where wishes, design and function must be agreed in the right way. Today there are many places where you can buy a new kitchen. It is an advantage for you to choose the right design and manufacturer in the variety of offers that offer the best relationship-price-quality relationship. For the customer, the quality is the first, and then the product chooses according to how it fits with design-functionality as well as price. Nevertheless, despite such a number of options, you have the choice of the right kitchen is not easy. It is very difficult to find the best relationship between all criteria. If you look at only one major criterion (eg price), you draw attention from other components of good and quality kitchen or other necessary furniture. We agree, because even if you are looking for other complete furniture, focusing primarily on low prices, it does not mean that you buy the cheapest cooker. And if you consider adding manufacturers, materials, styles, and so on, then the choice becomes even more complicated.
The fact that we have chosen to manufacture kitchen furniture confirms that we had to learn all the nuances of this industry as well as the trends and solutions we offer to our customers. We know that we find the right approach to every client. Our kitchens are made of the highest quality materials. In addition to the quality that is necessary, we incorporate a part of ourselves into each project, which enables us to find our products extremely demanding among customers. You can easily order custom-made furniture with us, only a call is enough. In return, we will do everything to make your new furniture a pleasure and a pleasure.
Our designers will create a unique design for you as well as a kitchen unit design, taking into account all the necessary details from the construction elements (holes, levels, installations, pipes). Many people know, and some do not, that for the ultimate look and ultimate form of space are important flat walls. But for such situations, you will have the full assistance of our designers who will make the necessary adjustments to the project and space with maximum precision.
A range of kitchen appliances from different manufacturers are adapted to the quality, color and design style of furniture (Ariston, Indesit, Electrolux, SIEMENS, Bosch, BEKO …). A good choice of appliances will improve efficiency in the kitchen. Quality appliances are a good investment, and you should always strive for the best quality, if your budget permits.
• Large selection of kitchen accessories, faucets, sinks, waste disposal systems, lighting, various interior contents for drawers, etc .;
KITCHENS can be designed in:
– different shapes (triangle shapes, letters "L", letters "P", letters "G", small kitchen, big kitchen etc.)
– styles (modern and contemporary or a combination of these two styles, minimalist, gorgeous, etc.)
– Incorporated in two or more tones, when you mix styles you can mix and color. Two tons in the kitchen add little space dynamics, and if you correct them correctly, they look fantastic. When mixing colors, you can mix styles. Two tones make space less sterile and welcoming and warm, especially if they are combined with wood. It is desirable to use brighter tones on the upper cabinets, and darker tones on the lower cabinets that will reduce the overall strength of the combination and increase the impression.
OFFICE FURNITURE
If you want your office, business space, waiting room, office, conference room or work room to reflect elegance, elegance, top design and quality, take a look and find the right model in the furniture offer of the world-renowned manufacturer LAS Mobili srl.
There are seventeen top-quality and differently designed office models with all supporting elements and accessories that are classified into two basic categories: Executiv and Operative.
In addition, various models of office chairs from FORSIT are also offered.
If the office space requires division by segment, the appropriate models from the MODULO program are also offered.
BATHROOM FACILITIES AND CHILDREN'S ROOMS
Bedroom
The bedroom is the most intimate room in the house and it is less "public", the place to which we retreat. Furniture and colors should be here to convey the feeling of benefit!
When deciding on the ultimate look of your bedroom, gradually choose the colors that will dominate and decorations that will reflect your personal taste.
Although the choice of color for walls is usually a matter of personal opinion, there are some colors that are more relaxing and therefore a better choice for bedrooms. Studies have shown that people who have a blue wall color in the room more often sleep because of the soothing effect of blue. Lighter colors can cause a better mood, but I can also keep you awake for longer at night. It may be best to use neutral colors and meet the needs of all members of the household. Purple and pink can be too noticeable, so you should try with variants of green, gray or brown.
Before choosing bedroom furniture, you need to check the dimensions of the room well. Although you need 3 wardrobes, 2 nightclothes, etc., you may not have enough room for that. Measure how many furniture you fit, do the visualization of space, and mark the places where the furniture should stand, so you have the right picture or experience where and how it should stand and everything fits. Be sure to leave enough space for movement inside the room, and that each drawer or door has enough space to open completely. When choosing a place for bedding, you must take care of where the doors and windows are located.
BATHROOM FURNITURE
Customers are increasingly choosing bathroom elements to work even more. All must be made of moisture-resistant materials (waterproof media), and at the same time it must be ensured that the design and colors of the material are incorporated into the overall ambient. Lately, the choice of customers is focused on veneered materials that most resemble natural materials (wood). The right choice of materials, designs and other accessories (handles, feet) is enough, and the furniture will surely dominate the space (bathroom).
CHILDREN'S ROOMS
Furniture for children's rooms is the biggest challenge for designers. A large selection of colors and materials is in circulation. There is no form that can not be designed and done. The essence is that the children's safety must be taken care of, then the schedule must be adapted to their age. For children going to school, it is necessary for the work desk to be placed near a stronger light source (window). For children who are younger, care must be taken to ensure that they have enough room for play and rest.